Netanyahu says Iran must recognise Israel in nuclear deal
Comments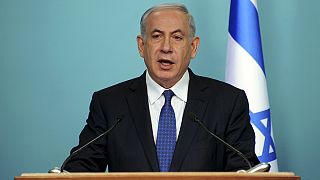 Israel has demanded that any final nuclear deal with Iran must include a commitment from Tehran recognising Israel's right to exist.
It follows the announcement of a framework agreement between world powers and Iran under which Tehran must curb, but not abandon, its nuclear activities in return for an end to Western sanctions.
The Prime Minister Benjamin Netanyahu, who has consistently opposed negotiations, says a final accord based on the deal so far would threaten the country's survival.
"Such a deal does not block Iran's path to the bomb. Such a deal paves Iran's path to the bomb. And it might very well spark a nuclear arms race throughout the Middle East, and it would greatly increase the risks of terrible war," he said.
Any deal must significantly roll back Iran's nuclear capabilities and stop its terrorism and aggression. #IranTalkspic.twitter.com/BOQ7YcHxyn

— בנימין נתניהו (@netanyahu) April 2, 2015
Netanyahu's comments followed a meeting of his security cabinet.
Confirmation of the framework deal further exposes Israel's rift with Washington.
"If…Netanyahu is looking for the most effective way to ensure Iran doesn't get a nuclear weapon, this is the best option" —Obama #IranDeal

— The White House (@WhiteHouse) April 2, 2015
Earlier President Obama told Netanyahu that progress on the nuclear issue did not diminish US concerns over Iran's sponsorship of terrorism and threats towards Israel.