Palestinian Authority joins International Criminal Court
Comments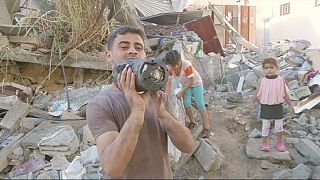 The Palestinian Authority has joined the International Criminal Court, vowing to hand over suspects to The Hague – including their own government officials.
In a move deeply opposed by Israel, the Palestinians are becoming the 123rd member of the world's permanent war crimes tribunal.
"As the Rome Statute enters into force for the State of Palestine, Palestine acquires all the rights as well as responsibilities that come with being a State Party to the Statute," said Judge Kuniko Ozaki, Second Vice-President of the International Criminal Court.
Joining the court is part of the Palestinians' campaign to win global recognition of statehood.
But Israel says such a move damages prospects for a negotiated solution to the decades-long conflict.
"This step and anything that could reveal the hypocrisy of the occupation is helpful for us," said one Palestinian in Hebron.
"The crimes of the occupation have been going on for 50 to 60 years, killing the Palestinian people and taking away every centimetre of our land. "
Another Palestinian in Hebron added: "We demand that the ICC brings justice for us because we are persecuted in many ways. It's almost like we don't exist. We always hope the Security Council or ICC will help, but it's useless. Hopefully, this time time it will work out."
The court is already looking at possible crimes committed during last year's conflict in Gaza.
The Palestinians say they will give prosecutors time to complete their initial enquiries, but will formally request an investigation if they take too long.