Nigerian refugees bear terror trauma from Boko Haram
Comments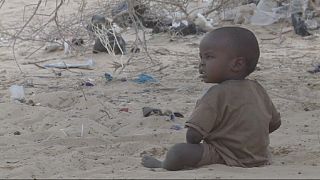 Doctors Without Borders (Medecins Sans Frontieres or MSF) has deployed an emergency team to Chad. The NGO is helping an estimated 18,300 refugees and 8,500 Chadian returnees, according to UN figures.
These people have been displaced by the brutality of the Nigerian extremist group Boko Haram.
MSF is also offering mental health care in the Dar es Salaam refugee camp in Chad's Lake Region, focused on the children.
The camp's chief manager, Idriss Dezeh, said: "Some saw their parents die. Some saw their parents leave them. Some saw other children die next to them. Some barely escaped being executed. Fortunately, at this age, one forgets things very quickly. Each one has a special story."
Much about the camp schools is improvised. The Nigerians speak English while the Chadians use French — another sort of confusion for children who have been through such extreme experiences.
Our correspondent, Luis Carballo, said: "In the ten years of its existence, Boko Haram has killed and kidnapped thousands of civilians. Tens of thousands have fled from Nigeria to escape this group that uses terror and extreme cruelty as weapons. Besides having lost everything, most of these refugees have suffered deep psychological traumas."
Kidnapping ordinary people is intended to spread fear. The group buys, sells and enslaves its captives.
Not knowing what happened to parents or others in a family inflicts great strain. A lot of families in the camp come from Baga — the site of one of the worst Boko Haram massacres in Nigeria, which happened in January.
Stephanie Giandonato, head of the MSF mission in Chad, said: "Many of these refugees witnessed the deaths of their loved ones in acts of extreme violence. When these people reach Chadian territory and the Dar es Salaam camp, they're not only physically weakened because crossing the lake is very complicated, but also psychologically weak."
Danger in Chad has also increased since Boko Haram attacked across the border in February.
The group wants its own Islamic Caliphate in Northern Nigeria. Government forces there say they have driven the group from all but three of the 20 areas it occupied at the beginning of the year, but thousands of refugees remain in camps, terrified to go home.