Midnight deadline comes and goes but there is still hope of a nuclear deal with Iran
Comments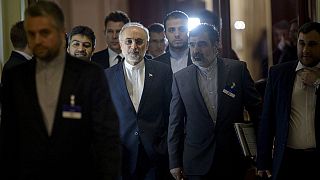 Russian Foreign Minister Sergei Lavrov says a deal curbing Iran's nuclear ambitions has been reached.
The Russian minister left the Swiss hotel in the early hours of Wednesday morning after the midnight deadline for talks with five other world powers and Iran passed without any word of a deal.
But later Lavrov later claimed all key aspects of a preliminary agreement had been reached.
However, Iran's Foreign Minister Javad Zarif was more circumspect:
"We've accomplished quite a bit but people needed to get some rest, and start over early in the morning. I hope that we can finalize the work on Wednesday and hopefully start the process of drafting," he said.
Even so, one diplomat close to the talks has denied any initial agreement is within reach and France's Foreign Minister Laurent Fabius earlier quit the talks only to return he said, 'when its useful'.
Throughout the last few days the sticking points have been over Iran's uranium stockpiles, nuclear research and the speed with which crippling western sanctions will be lifted.
The hoped for political accord is supposed to lay the foundation for a final settlement by June 30. The US says it will exit the talks before June if no deal is reached.