Pressure on at Iran nuclear talks ahead of midnight deadline
Comments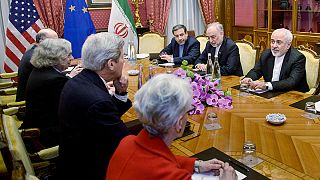 The pressure is on at talks in Switzerland to find a preliminary deal on the Iranian nuclear issue.
Tehran is in negotiations with senior officials from the US, Britain, France, Germany, Russia and China.
The countries have a self-imposed deadline of midnight on Tuesday for an agreement.
Diplomats are worried that if there is no progress in overcoming differences this week the opportunity for a deal may be lost.
The talks are aimed at limiting Iran's nuclear capacity so it cannot build an atomic bomb, in exchange for the easing of international sanctions.
But there are different views on what nuclear enrichment should be allowed and how fast sanctions can be eased.
Reihaneh Mazaheri, euronews' correspondent in Lausanne, reported: "Iran and the delegates from the six world powers began their meetings this morning, the last day of the talks, at 7 o'clock.
"It is now a matter of waiting to see whether the fundamental disagreements can be resolved and whether this will be a decisive day in the history of Iranian nuclear talks."