Iran nuclear talks continue beyond a midnight deadline as the search for a deal goes on
Comments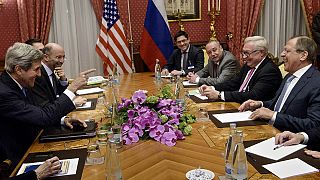 With the original deadline set at midnight, Russia's Foreign Minister had hastily rejoined nuclear talks with in Iran on Tuesday.
Sergei Lavrov had left negotiations in Lausanne the day before saying he would only be back if there was a realistic chance of a deal.
Before making the return trip from Moscow, he voiced optimism about the prospects of success.
"The chances are high. They are probably not 100 percent but you can never be 100 percent certain of anything. But the odds are quite 'doable'," Lavrov told reporters.
The six world powers and Iran have now gone beyond the midnight deadline in the Swiss city to try and overcome the final hurdles for a preliminary accord.
It is hoped this will be followed by a comprehensive deal by June 30 including all technical details on limits Tehran will place on sensitive nuclear activities in exchange for the easing of sanctions.
The United States said it would be willing to continue working past Tuesday's self-imposed midnight deadline to reach a preliminary deal if it appears that progress is being made, according to an unnamed senior State Department official, quoted by Reuters.
Iran and the six powers have twice extended their deadline for a long-term agreement, after reaching an interim accord in November 2013.
Our correspondent in Lausanne, Reihaneh Mazaheri, said that as Sergei Lavrov returned to the negotiating table, there was talk of a 'common political understanding' being reached which could be a basis for continuing the talks until the end of June.
But she added it seems there is still disagreement on where the results of Tuesday's talks should be announced, with the Iranian side wanting a declaration at the UN in Geneva instead of Lausanne.