Israel's former prime minister Ehud Olmert faces jail again over fresh fraud claims
Comments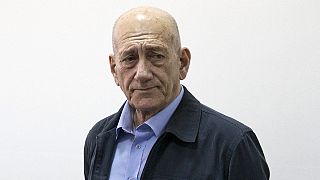 The former Israeli prime minister Ehud Olmert has been found guilty of fraud and breach of trust by a court in Jerusalem.
He is said to have accepted illegal payments from an American businessman who hoped to further his interests in Israel.
The ruling reverses a 2012 acquittal of the veteran politician.
It is the second corruption conviction against Olmert who led the country between 2006 and 2009.
In other proceedings last May (2014) he was sentenced to six years in jail for accepting nearly 160,000 euros in bribes linked to a real estate deal in Jerusalem when he served as the city's mayor.
Olmert is currently contesting that conviction in the Supreme Court and is expected to appeal against his latest setback. He has denied any wrongdoing in both cases.