Nigeria election extends to a second day after technical issues
Comments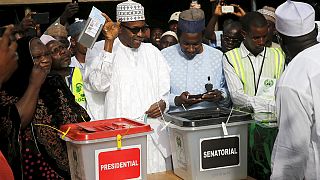 Nigeria has extended voting in the country's presidential election into a second day because of technical glitches.Millions turned out to vote in a presidential election that analysts say is too close to call.
Nearly 60 million people have cards to vote. Many card reading machines failed to function. Others were stolen.
The front runners in the contest to govern Africa's richest and most populist nation are President Goodluck Jonathan and former military dictator Muhammadu Buhari, the challenger many say has a good possibility of defeating this main opponent.
Polling was due to continue on Sunday in some areas where new machines largely failed to read voters' biometric cards, said Attahiru Jega, head of Nigeria's Independent National Electoral Commission.
In other areas, vote counting ended Saturday night, with blackouts that are routine forcing some officials to count by the light of vehicles and cellphones.
As Nigerians headed to the polls on Saturday, Boko Haram militants killed at least 25 people in an attack on the remote Borno state village of Burat.
Other isolated violent incidents were reported from the north to the south with attacks on military officials and voters, and police detonated two bombs found in a car outside a polling station in Enugu.