Malaysian Grand Prix: Vettel strikes back
Comments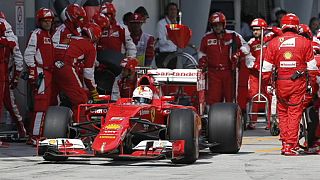 Welcome back to Speed​​, our programme dedicated to the world of motorsport. Germany's Sebastian Vettel stunned world champion Lewis Hamilton on Sunday with an impressive Malaysian Grand Prix victory, denying Mercedes of top spot for the first time since the Belgium Grand Prix last August.
Starting from second place on the grid, the 27-year-old dominated his opponents from the outset and eventually crossed the finish line 8.5 seconds ahead of Hamilton.
Nico Rosberg completed the podium while 17-year-old Max Verstappen claimed seventh place for Toro Rosso to become the youngest ever points scorer in Formula One history.
Fernando Alonso
McLaren's Fernando Alonso took part in the race, ending rumours which had been flying around following his accident at the Circuit de Catalunya. The Spaniard looked in control and showed the world he had recovered from concussion sustained in Barcelona on February 22.
Starting 18th on the grid at Sepang, Alonso climbed as high as eighth in the 21 laps his car lasted before technical issues forced him to retire.
His team-mate Jenson Button also held his own before his race was cut short due to a turbo issue.
1999 Malaysian Grand Prix
A host of big names, including Fernando Alonso, have triumphed here before but the first race, which was held in 1999, was won by underdog Eddie Irvine who knew exactly who to thank after taking the checkered flag.
Irvine was hired by Ferrari in 1996 to help support Michael Schumacher's championship effort but took on the role of team leader three years later when the German legend broke his leg at the British Grand Prix.
Schumacher eventually recovered and was leading in Malaysia before stepping aside to hand his team-mate his fourth victory of the season.
This win saw Irvine top the overall standings ahead of the final race in Japan but it wasn't to be as Finland's Mika Hakkinen prevailed, en route to his second consecutive world championship title.
Rossi claims season opener in Qatar
Italy's Valentino Rossi produced a superb display to win the opening race of the 2015 MotoGP season in Qatar.
Following a tough battle from 10th position at the start of the 22 lap race, the seven-time champion steadily moved forward until he was on the tail of the leading trio comprised of Andrea Iannone, Jorge Lorenzo and Andrea Dovizioso.
Relying on his huge experience, Rossi then hit the front with three laps remaining before edging out Dovizioso on the final lap en route to his 109th Grand Prix victory.
Iannone completed the podium while Lorenzo and Marquez finished fourth and fifth respectively.
Night of the Jumps
See you on April 12 for another edition of Speed where we will be looking at the Shanghai Grand Prix. In the meantime, we end the programme with some of the best moments from the Night of the Jumps which took place in Tours, France.