Militants launch deadly assault on Mogadishu hotel
Comments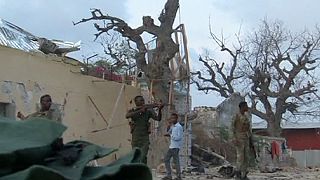 At least 17 people have been killed in a militant attack on a hotel in the Somali capital Mogadishu.
The Somali ambassador to Switzerland was among the dead.
Special forces troops, trained by the US, are said to have stormed the Hotel Maka Al Mukaram to rescue those trapped inside, who included government officials.
The troops reportedly killed most of the attackers.
Al-Qaeda linked group al Shabaab has claimed its followers were responsible for the attack. It wants to overthrow the government and impose its strict version of Sharia law in Somalia.
An offensive launched last year by African Union (AU) forces, along with the Somali army, has driven the group out of its strongholds in central and southern Somalia, where a series of US drone strikes have killed some of its top leaders.
Despite the military campaign, al Shabaab has continued to strike back using hit-and-run bomb attacks in Mogadishu and other towns. It has also struck out at countries supporting the AU mission.