German President attends memorial service for students killed in Alpine plane crash
Comments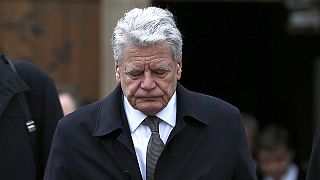 Teenagers and parents from the grief-stricken town of Haltern am See have been joined
by Germany's president at a memorial service for the 16 pupils and two young teachers killed in Tuesday's Alpine plane crash.
All from the same school, returning from a language exchange – their deaths have become the symbol of a tragedy that has destroyed so many families.
"I came out of that church, from the midst of people who have lost the most precious thing to them – their only child, a child, a loved one," President Joachim Gauck told reporters.
"I sat among the crowd and heard the sobbing of the people mourning their loss. And I wanted to mourn with them."
Travelling home from Barcelona, the 14 girls and two boys, all about 15 years old, had started learning Spanish at the start of the school year and were picked from 40 applicants to attend the popular language exchange programme.
A group of Spanish students spent a week in Haltern in northwest Germany in December.
Victims of the apparently deliberate Germanwings crash were also remembered in Berlin on Thursday evening with a minute's silence at the annual ECHO music awards, Germany's answer to the Grammy awards.
French prosecutors believe co-pilot Andreas Lubitz, 27, locked himself alone in the cockpit of the Airbus A320 on Tuesday and deliberately steered it into a mountain, killing all 150 people on board.