France: relatives of Germanwings victims visit crash scene
Comments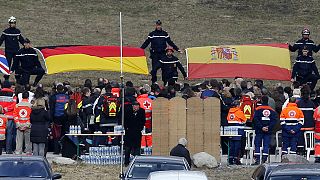 Relatives of those on-board the Germanwings flight which crashed in the French Alps have been arriving in Le Vernet.
It is the closest inhabited area to the mountains where their loved ones were killed on Tuesday.
The families stood together near a line of national flags, representing the many countries in mourning.
Seventy-two Germans and 50 Spanish nationals were onboard the Airbus A320.
There were also passengers from the US, Morocco, Argentina, Australia and Japan, among other countries.
For those relatives visiting Le Vernet, chapels were prepared for them, with a view of the mountains where the plane went down.