Tunisia's Bardo museum reopens for officials, a week after militant attack
Comments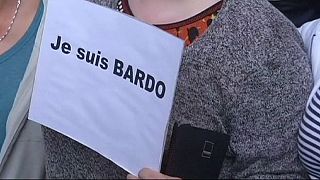 The Bardo museum in Tunis has reopened for officials, almost a week after 20 foreign tourists were killed in a militant attack. But it will remain shut to the public until Saturday.
Tourists were allowed to gather around the main gates, with police standing guard.
"We decided not to cancel our trip and today we've even decided to change our itinerary to come and take pictures – and to show our solidarity with Tunisians," said Rose Marie, a Canadian tourist.
At least two gunmen opened fire on visitors as they got off buses at the museum last Wednesday. ISIL claimed responsibility for the attack.
Security forces later killed two men, who are said to have been recruited at mosques in Tunisia and trained at a jihadist camp in Libya.
It was Tunisia worst attack in more than a decade, testing the country's young democracy.
Meanwhile, those who work in Tunisia's tourism industry have joined a march, to also show their solidarity and to remember the victims of the rampage.