Sarkozy's UMP party knocks National Front into second place in French local elections
Comments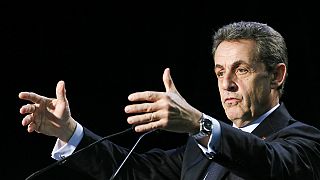 Former President Nicolas Sarkozy's conservative UMP party and their allies have won the first round of French local elections, denying Marine Le Pen's far-right National Front (FN) first place.
According to official partial results the winners secured around 30% of the vote.
Sarkozy was predictably pleased:
"I call all French who want a change to mobilise for the second round to confirm the movement towards change that we have seen tonight."
Sarkozy immediately ruled out any alliances between his party and FN candidates in next Sunday's second round, which will decide who controls France's "departments", one level in France's complex multi-layered system of local government.
The National Front came in second with around 26% and shows yet again how Le Pen's strategy of building a system of local organisation and shutting down the party's overtly racist elements is paying off.
Afterwards Le Pen aimed her remarks at the struggling socialists:
"Prime Minister Manuel Valls must now hear the message of voters and have the decency to hand in his resignation to the president due to the week performance by the Socialist Party."
Indeed François Hollande's Socialists fared as expected coming in third with around 21%, underlining their unpopularity after failed promises to reduce unemployment.