Under the world's radar: Stories you probably missed
Comments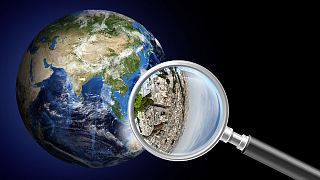 Italy: Cyberlegs
The world's first pair of bionic legs, aimed at enabling amputees to walk with less effort, was presented by scientists in Florence on Monday.
The legs are the result of the Cyberlegs European project that combines artificial limbs with so-called wearable robots. Up to now 11 people have tested the bionic legs at Florence's Fondazione Don Gnocchi as part of the project.
"It's a combination of technologies that help people walk in a natural way again," said Nicola Vitiello, the project's coordinator.
The Cyberlegs help amputees to walk backwards and forwards, go up and down stairs, and move from sit-to-stand and stand-to-sit with minimum cognitive and energetic effort.
Ukraine: Don't panic
In hard times the best thing to do is to laugh. At least, that's the impression given by organisers of "At the Bottom: Panic and Hysterics Festival", who say you can beat the negativity associated with complaining with the positive outlook brought on by appreciation of humour.
Ukraine is going through an armed conflict in the east, the currency has lost its value dramatically against the euro, people have been losing jobs and savings, yet there are plenty of people who are prepared to smile.
What initially started as an ironic Facebook post quickly developed into an initiative to hold a street art, crafts and food festival in Kyiv, Ukraine on March 21.
People will gather in the Ukrainian capital for a variety of activities, such as a lecture on how to travel with no money, hugging a room full of strangers and a plumbing workshop teaching how to change your own tap washers. There's also an online competition for the best anti-crisis video.

Kyiv crisis fashion: bin bag dress
Morocco: Atlantis found?
The lost city of Atlantis might have been found.
A computer expert claims he has located the famous city, described by the Greek writer Plato, in a Moroccan desert.
Rather than being swallowed by the ocean as previously thought, German Michael Hubner reckons the city may have been destroyed by a tsunami.
Hubner used clues contained within Plato's books to write a program to figure out the most likely location for the city.
He discovered that Morocco's Souss Massa plain, south of Marrakesh, fitted many of the descriptions of the ancient city.
Hubner died in 2013, but his theories have now been published in a book.
New bill severely restricts Turkey's Internet
Internet censorship measures that were previously shot down by Turkish Constitutional Court are being resurrected in a new omnibus bill, including the power to block content within 4 hours of the order of senior government officials.
According to the new law, the prime minister or any other minister would have the power to order the removal of content in order to "preserve an individual's right to life and property, protect national security and public order, prevent crime as well as protect the public's well-being." If the content in violation is not removed, the entire website may be blocked.
Recruiting for ISIS on Web? No problem. Insulting Turkey's Pres Erdogan? Call in the censors! http://t.co/ucff2ilkuxpic.twitter.com/5w2WE1eneX

— Kenneth Roth (@KenRoth) 14 Mars 2015
Is Europe's tallest skyscraper set for the Swiss Alps?
Europe's tallest skyscraper could be built in a small spa town in the Swiss Alps, if controversial plans get the green light.
Developers want to construct a luxury hotel on the outskirts of Vals, which has a population of just 1,000.
The 381-metre-high building would tower above The Shard in London, which at 309 metres currently holds the record.
The Shard towers over a busy @boroughmarket#london. #photographypic.twitter.com/JOueDyHHCj

— Richard Eaton (@WorldCityPhotog) March 14, 2015