Spanish victims of Tunis museum attack are repatriated
Comments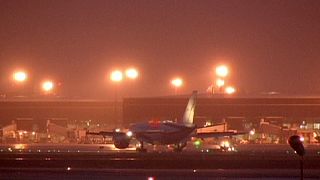 A plane carrying the bodies of two Spanish victims of the Tunis museum attack has arrived in Barcelona.
Survivors have also travelled home after Wednesday's shootings, which left a total of 20 foreign tourists dead.
In Tunis, thousands of people have celebrated Independence Day and shown their defiance.
With ISIL claiming it was behind the rampage at the Bardo museum, Tunisia's president says his country is "at war with terrorism."
Beji Caid Essebsi has called for unity and said the attack could have been even more deadly.
"The terrorists came with explosive belts. This is what we saw with our eyes, they did not explode. Because they did not have time to blow them up. If they had exploded, there would have been 100 killed," he said.
Worried that ISIL is spreading its influence, EU leaders have pledged to step up counter-terrorism efforts with Tunisia.
They also say they will support economic development, with the country's tourism industry now in jeopardy.