Greek parliament passes poverty bill
Comments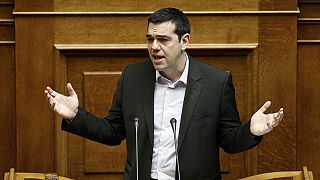 The Greek parliament has passed a poverty bill much to the annoyance of its international lenders
Under the new law the poor will be given free electricity and about 300,000 Greeks will get food vouchers. The measures also include a rent allowance of up to 220 euros a month for 30,000 households and action to prevent home foreclosures.
The legislation however disregards bailout requirements for more austerity measures.
But Prime Minister Alexis Tsipras promised during his election campaign he would deal with what he calls Greece's "humanitarian crisis".
"Some have the nerve to talk about unilateral actions, and some in here have also repeated it. If they are doing it to frighten us, the answer is simple, they are not frightening us and this does not discourage us," the prime minister told parliament.
Even though the Greek economy has begun to recover, humanitarian aid workers agree the situation has got worse.
Record unemployment has quadrupled the numbers forced to rely on food banks and tuberculosis which disappeared decades ago has reappeared.
However European Economics Commissioner Pierre Moscovici has denied the EU is trying to stop Athens from passing the bill, rather a letter had been sent reminding the Greek government to consult with its lenders first.
The Bill was passed by parliament in principle by a majority, thus securing its passage. Each article is then voted upon separately.