Focus falls on Lausanne once again for progress in Iran nuclear talks
Comments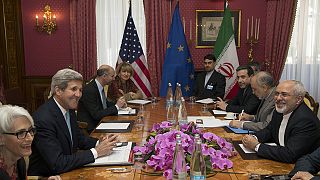 Lausanne, Switzerland has once again become the venue for talks aimed at producing a framework agreement on curbing Iran's nuclear programme.
The on/off negotiations are getting down to the specifics of a deal in which Western powers want to see Iran make some major concessions in return for the lifting of crippling sanctions.
Alan Erye is a US State Department spokesman and specialist in Iranian affairs:
"We are trying to reach a deal and there is no reason why cannot achieve this. For more than a year now we have made a lot progress and Iran knows very well that in order to satisfy the international community, regarding its nuclear programme, it must take serious and necessary decisions".
Eyre then explained what essentially the world powers, referred to as P5+1 want to achieve .
"The most important thing for the U.S. and the rest of the P5+1 is, that Iran does not acquire a nuclear bomb. It could do that through its (Uranium) enrichment at Natanz or Fordou or the production of plutonium in Arak, or any other secret way.. What we want is, to close all the ways that Iran can obtain a nuclear bomb".
Without agreement on a frame work, a June 30th deadline for a full accord won't be achieved.
Our reporter in Lausanne Reihaneh Mazaheri said: "The negotiations between foreign ministers of all the countries concerned are continuing. Although at the beginning of the week there was more optimism for a possible agreement, that seems to have faded with attention being focused on deep seated differences. However hope still exists for deal at the end of March.