Myanmar jails New Zealand bar manager and associates for insulting religion
Comments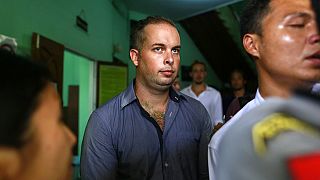 New Zealander Phil Blackwood and two colleagues from Myanmar have been jailed for two and a half years with hard labour for insulting religion in the country.
This is neither too harsh nor too lenient. They just got what they deserved
Their crime was using a psychedelic image of Buddha wearing headphones to promote a cheap drinks night at a bar.
Blackwood's lawyer, Mya Tway, was not hopeful of a happy outcome for his client.
"This is Myanmar, not like other democratic countries. That is all I can say," he told reporters outside a courthouse in Yangon.
Bar manager Blackwood has apologised online, saying he did not intend to offend Buddhism when he posted the image on the bar's Facebook page.
But monk Pyinya Wuntha, of the Patriotic Myanmar Buddhist Monks Union, went to court for the verdict and said it was an appropriate sentence.
"This is neither too harsh nor too lenient. They just got what they deserved. As a Buddhist, I don't want them to suffer more than this," he said.
Blackwood and his associates Htut Ko Ko Lwin and Tun Thurein had all pleaded not guilty.
Rights groups condemned the verdict as an assault on freedom of expression and called for the release of the three.
There has been a surge in Buddhist nationalism in Myanmar – which emerged in 2011 from half a century of military rule – with monks forming groups aimed at promoting the country's Buddhist character.
Myanmar's semi-civilian government has lifted restrictions on freedom of speech, association and media, but reforms have been accompanied by a rise in Buddhist nationalism.
The main target of the nationalist movement has been Muslims, who make up about 5 percent of Myanmar's 53 million people. Sectarian violence since June 2012 has killed at least 240 people, most of them Muslims.