Moscow flames at Novodevichy Convent spark false rumours of Kremlin fire
Comments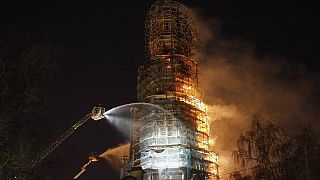 The night sky of Moscow was lit up by a fire at one of the Russian capital's popular tourist attractions.
The flames engulfed the bell tower of the 16th century Novodevichy Convent, a Unesco world heritage site where many prominent figures are buried.
Images on social media sparked rumours that the Kremlin had caught fire, but the convent is several kilometres away.
The authorities said the fire started in scaffolding surrounding the tower, which has been undergoing renovation work.
Officials say it started at 10.41pm local time on Sunday night.
Within an hour and a half firefighters say they had brought it under control, and little damage had been done.
"There is no smoke inside the tower. The fire took hold in several parts of the scaffolding surrounding the bell tower, which is now completely extinguished. Nothing was damaged inside and firemen managed to prevent the fire from spreading to a nearby building," said Alexander Gavrilov, Deputy Director of Russia's Fire Emergency Service.
The cause of the fire is not known.
Moscow officials say the renovation work had been flouting safety regulations but they were powerless to act because the convent is under federal control.
Several famous figures are buried in the convent's cemetery – including writers such as Anton Chekhov, composers Prokofiev and Shostakovich, and former leaders Krushchev and Boris Yeltsin.
The convent occupies a central part of Russian history and has been mentioned in several classic works of literature, including several novels by Leo Tolstoy.