Thousands attend inter-faith march in Brussels
Comments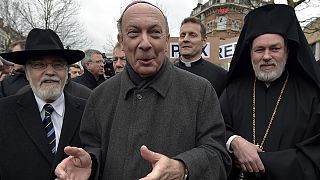 Around 5,000 people gathered in the centre of Brussels on Sunday to participate in a march calling for peace and tolerance between religious faiths.
Christians, Jews, Muslims walked side by side through the streets condemning the rise in
violence seen particularly in the Middle East but also the recent attacks in Paris, Copenhagen and other Western cities.
Simon Najm who is President of the support committee for Eastern Christians said:
"It's very important to show solidarity and to convey a message to all countries, especially the Arab countries, so that living together is practiced all over the world. "
The President of Belgium's Jewish Central Council, Julien Klener added:
"If there has been a need for this march its because there is a climate of anxiety. I know holding this rally will not solve much, but at least it's a sign …. to show that despite our concerns there is hope."
Noureddine Smaili, President of Belgium's Muslim Executive voiced a specific concern:
"We must all do something to stop this radicalisation of the young… be it through the indoctrination by certain imams, indoctrination by priests or indoctrination in prisons, because most of the time it comes from prisons, so we must all try to ensure that the supervision of the young is better. "
In the light of recent attacks in European cities there is apprehension about the potential security threat posed by individuals returning from Syria and Iraq. In response, Belgium's government is now calling for an international data base to be set up naming returning jihadists so intelligence agencies can share information.
According to euronews reporter Marta Vivas Chamorro Belgium has identified at least 350 potential jihadist fighters and despite the absence of any definite threat, security had been stepped up at European institutions and some sensitive locations in the country.