Hyper Cacher kosher supermarket reopens after Paris attacks
Comments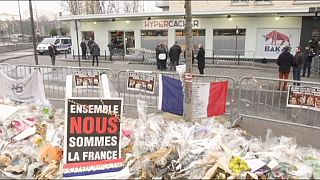 The Hyper Cacher kosher supermarket in Paris where four hostages were killed in January has reopened in Paris.
"There we are, we are open again," the new manager, Laurent Mimoun, told local media, wearing a black kippa and visibly moved in the supermarket, completely refurbished and bearing no trace of the deadly attack.
"We are thinking about all the victims, this has been the driver behind reopening the shop," he said.
The shop reopened with an entirely new staff since those present at the time were still recovering from the attack on sick leave, according to shop managers.
"It is important to pay respect to the memory of those who fell under the fire of barbarity," Interior Minister Bernard Cazeneuve said as he attended the reopening, which took place under heavy police surveillance.
France has both the largest Jewish and Muslim populations in Europe, leaving people to fear heightened tensions after the attacks and authorities to insist all would be protected.
"This foodstore reopens bravely to show that life is stronger than everything," Cazeneuve said, adding that French authorities would "do everything so that all French people can live freely."
"I was here when the attack happened," said one shopper. "I was about to drive away and Couibaly was just in front of me. When I got back home 45 minutes later I switched on the TV and saw what was happening. That's why I came back today. It's important that they reopen."
"Today is very symbolic," said another customer, "and it's a way to send a message to those who did that or those who would like to do similar things, that they won't win."
Hyper Cacher said in a statement that the reopening shows the resilience of France's Jewish community.
Les salariés de l'#HyperCacher accueillent les clients avec le sourire… et un peu plus ! pic.twitter.com/xPqLZYHmaB

—

CRIF

(@Le_CRIF) March 15, 2015