IS talks tough but loses ground in Iraq
Comments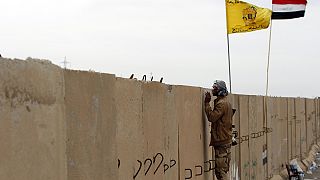 Street fighting continues in Tikrit in Iraq after the Iraqi army entered the city yesterday and engaged with IS forces.
The army, led by Shia militia and with support from Iranian-led militia units and at least 500 local men, has already taken a significant portion of Tikrit. Officers have spoken of their desire to hold Friday prayers in the central square.
Faced with military reversals the militants have redoubled their propaganda campaign, announcing three new targets; the White House, Big Ben, and the Eiffel tower, for their list.
.
Tikrit fell to IS in June in an offensive that swept up a third of the country and took them to the gates of Baghdad. A palace complex in the city built by Saddam Hussein has been used as their headquarters.
IS also announced on Thursday it was accepting its "brothers in west Africa" Boko Haram in Nigeria after they swore allegiance to the IS cause.