Tsipras strikes deal to help Greece reform as war of words grows with Germany
Comments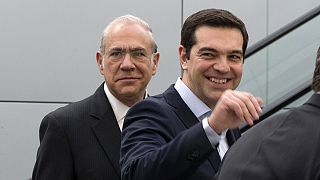 Greek Prime Minister Alexis Tsipras has agreed a cooperation deal with the OECD group of industrialised nations in Paris.
I personally don't feel I am on a leash
The Organisation for Economic Cooperation and Development will help Athens with reforms needed to unblock further aid as it runs out of money.
But is the radical left leader feeling the pressure from international creditors? It seems not.
"I personally don't feel I am on a leash," Tsipras told reporters at a joint news conference with OECD Secretary General Angel Gurria.
"I feel that maybe for the first time, Greece has the resolute determination to go ahead with reforms, with cooperation from the institutions," he said, using the new term for what was the EU/IMFand ECB troika that saved Greece from bankruptcy but was widely hated there for imposing austerity.
However with Greece's biggest creditor and EU paymaster Germany, relations have gone from bad to worse.
As if a row over World War Two reparations wasn't enough, Athens has now officially complained amid media reports that German Finance Minister Wolfgang Schaeuble called his Greek counterpart "foolishly naive" in his communications.
Schaeuble has rejected any suggestion he insulted Yanis Varoufakis as 'nonsense'.
A week of key negotiations for Greece's new government is set to continue on Friday. Seeking support from Brussels, Tsipras will meet European Commission President Jean-Claude Juncker.