Iceland drops EU membership bid
Comments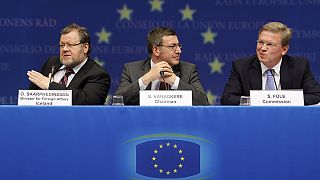 Iceland has dropped its bid to become a member of the EU.
Foreign Minister Gunnar Bragi Sveinsson said he had informed the current EU president Latvia as well as the European Commission about the move.
The government gave no reason for its decision not to join the 28 member bloc.
The North Atlantic country began the membership process in 2009 at the height of the economic crisis. In 2013, a Eurosceptic party came to power vowing to annul the membership talks. The country is already a member of the European Economic Area and the ruling party said that Iceland already enjoys many of the benefits of being a full member.
Britain's eurosceptic UKIP party delighted at the news on Twitter:
In Iceland protests were announced to be carried on throughout the weekend. Many in the opposition are angry that the government took the decision without consulting parliament.