Nigeria announces further victories in fight against Boko Haram
Comments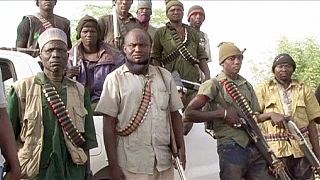 Nigeria's military says coalition forces have almost entirely recaptured the former Boko Haram stronghold of Yobe State, in the northeast of the country.
Nigerian Task Force Officer, Commander Yusuf, announced the breakthrough.
"Yobe State is made up of 17 local governments and in the middle of last year, two local governments were completely lost to the insurgents," he said. "And as I speak to you now, we have just one major town to take to complete the retaking of these two local governments: that is Gonori."
Some 8,700 troops from Cameroon, Chad, Niger and Benin have come together to help Nigeria defeat the militant group. Boko Haram has killed thousands and displaced more than a million people in its campaign to create a new Islamic State in the region.
In 2014, the radical Islamists seized an area of Nigeria the size of Belgium, which local government forces struggled to take back. Authorities then decided to postpone planned elections in 2015 by six weeks, to March 28.
The latest, multinational operation appears to be more successful, with several key towns being reclaimed.