ISIL launches offensive against Kurdish forces in northeast Syria
Comments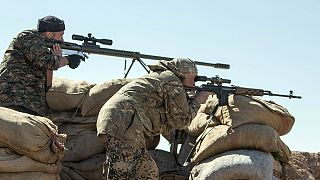 ISIL militants have launched a major offensive against Kurdish forces in Syria, with fierce fighting around Ras al-Ayn town in the north-east of the country.
It comes after the Kurdish militia made significant gains against ISIL in recent weeks, cutting off an important supply route from territory controlled by the extremists in Iraq. The Kurdish campaign in the north-east of Syria has been coordinated with the US-led coalition that is fighting to recapture territory from the Islamic State group in Syria and Iraq.
In the process Kurds are gaining more autonomy as they fight ISIL. At a military training camp in northeast Syria, the focus is on battling the jihadists.
"First it was a dream that Kurds, like other nations, would have its own military," admits one of the fighters. "But it doesn't matter – Kurds, Arabs, Christians, – we all have to participate in this campaign. It's a national duty, a moral duty to participate in this campaign."
Thousands of female fighters have taken up arms in the Kurdish military units training for battle. They feel strongly about how ISIL treats women under their control.
"We have seen how they make women slaves," says Amed (18) adding, "we are against all that. We are standing up against female slavery."