Armed robbers steal 9m euros of jewellery on French highway
Comments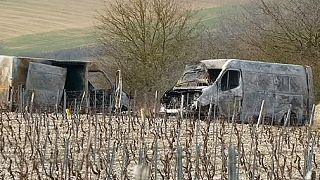 Two armoured trucks transporting millions of euros of jewels, diamonds and art objects have been robbed while at a toll booth on a French highway.
The attacks, which reportedly involved 15 assailants wearing balaclavas and armed with automatic weapons, took place shortly after midnight on Wednesday on the A6 highway as the vehicles travelled between Paris and the eastern city of Besançon.
The stolen items are worth more than 9 million euros, according to a source close to the investigation quoted by the AFP.
The security teams manning the trucks, employed by the cash transport company Témis, were unarmed, "according to local media"http://www.lyonne.fr/yonne/actualite/pays/avallonnais/2015/03/11/un-convoi-de-transport-de-bijoux-braque-au-peage-d-avallon_11359218.html No one is reported to have been hurt.
The robbers fled in the direction of Paris aboard three powerful cars and two other trucks. The trucks were later found burnt near the town of Quenne, about 50km north of the toll booths.
The French authorities have launched an investigation including an air search and a forensics unit to analyse samples found aboard the armoured trucks.