Solar Impulse takes off from Oman on second-leg of record breaking trip
Comments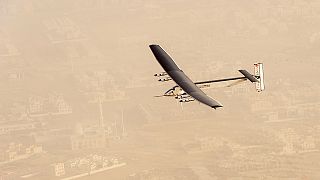 A solar powered plane has started the second leg in its attempt to fly round the world without using fossil-derived fuels.
Solar Impulse 2 took off from Muscat in Oman on its way to Ahmedabad in western India.
The plane runs on solar cells which are powered by the sun in the daytime and lithium power batteries by night.
The whole journey is scheduled to take around five months , crossing India, China the US and a few other places. But there will only be 25 flying days which will be shared by pilots Andre Borschberg and Bertand Piccard.
The recent boom in solar power is considered a huge help in the battle against climate change and its hoped the flight project will attract more investors to back the search for alternative energy sources