Scorn greets Greek plan to use undercover amateur tax sleuths to lead fight against fraud
Comments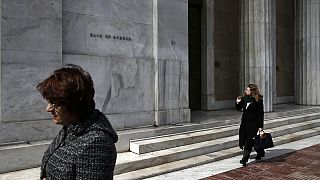 Ridicule and scorn have greeted a proposal by Greece's finance minister to engage non-professional tax inspectors to fight fraud.
He intends to hire students and tourists to pose, after some basic training, as customers wired with recording equipment to catch tax evaders.
One unemployed woman said: "If they want to tackle tax evasion they should look elsewhere to those people that are evading taxes and taking their money abroad."
It's thought the idea of thousands of undercover 'new recruits' working on behalf of the Greek tax authorities will change Greek attitudes to paying their taxes.
One Dutch tourist approved of the idea: "If I lived here I would do it because I earn money and I help the country to do better. Because I think if everybody paid their tax it would be better because they could pay everything. I think it's a good idea."
The proposal is one of seven reforms described in an attachment to a letter sent to the Eurogroup.
However Opposition parties New Democracy and PASOK have blasted the idea calling it legally wrong.
SKalyvas</a> If only the reality was as funny! All Greek *tax reforms* to date consist of making non-evaders pay more and leaving evaders alone</p>&mdash; Apostolos Doxiadis (apdox) March 5, 2015