Annexation of Crimea: One year on
Comments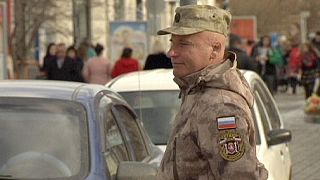 Celebrations have begun in Crimea, almost a year on from Russia's annexation of the peninsula.
Following a referendum on March 16, 2014, Crimea was formally absorbed into the Russian Federation two days later, amid an international outcry.
Differing opinions
But it is a move local leader Sergei Aksyonov claims has benefitted the region.
"In the current situation more than 90 percent of Crimean residents support what happened in March last year," he said. "I personally have no doubts about it. And to the western media I say: 'Please come here, and at any time ask anybody on the street what they think of what happened a year ago'."
This view is, apparently, not shared by all the local residents. One woman in Simferopol claimed the quality of life has declined.
"I think joining Russia resulted in a slight improvement in the legal sphere," said Shamsnu. "But as for day-to-day life, we are living and suffering and prices are rising. It's bad."
Another resident disagreed, saying pensions and salaries had increased and the government was working well.
"(Life) has changed for the better," Alexander said. "Pensions and salaries got bigger, roads are being repaired, and in general the government started working. Of course, there are still some problems, but we hope everything will be alright."
But, one human rights activist claims authorities are clamping down on free speech.
"First of all, I should probably mention the decrease in opportunities for carrying out mass rallies," said Andrei Kresko of the Crimean Field Mission group.
"A whole range of restrictions has been introduced and, for certain groups or representatives, there is even a ban on organising rallies. There have also been quite a few instances when freedom of speech has been limited."
Putin reveals all
The celebrations coincide with Russian President Vladimir Putin's revelation about what happened behind the Kremlin's doors in the vital hours before the annexation.
In a documentary trailer for Russian state-run television, he claims he gave the order to seize Crimea, days before unidentified soldiers took over the parliament and the referendum was held.
At the time, Moscow denied involvement in the turmoil.