MH370: One year on but still no answers
Comments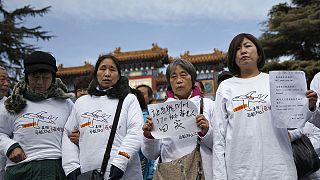 One year since Malaysia Airlines flight MH370 disappeared, the search for the Boeing 777 continues. The flight vanished from radar screens shortly after taking off from Kuala Lumpur, en route to Beijing, on March 8, 2014.
I've met with so many difficulties...but I'm certain that my daughter is still alive and I'm going to get her back.
No trace has been found of the plane or the 239 people on board, despite one of the largest maritime search operations in history.
Australia is leading the international search team, which has been scouring a vast area of the Indian Ocean, off the country's west coast.
"As long as there are reasonable leads the search will go on," Australian Prime Minister Tony Abbott told reporters on Sunday. "We've got 60,000 square kilometres that is the subject of this search. If that's unsuccessful, there's another 60,000 square kilometres that we intend to search and, as I said, we are reasonably confident of finding the plane."
Of the 227 passengers on board, 152 were Chinese nationals and dozens of family members gathered at the Lama Temple in Beijing on Sunday to commemorate the first anniversary of the plane's disappearance.
Victims' families have criticized Chinese and Malaysian authorities for not doing more the help them determine the fate of their loved ones.
Yang Jingbo's daughter was one of the passengers aboard MH370. On Sunday he stood in protest outside the temple, wearing a t-shirt reading "Tell me the truth, where is Malaysia Airlines 370!"
"This year has been so difficult," he said. "For the last year, I've been running around Beijing, on the road trying to find my relative, I've met with so many difficulties but I can get over them. I can't sleep at night, each night I'm only getting about two hours, but I'm certain that my daughter is still alive and I'm going to get her back."
The Malaysian government released an interim report on the fate of MH370 on Sunday (March 8) but it contained no significant new information.