Warring factions hold peace talks as Libya slides further into chaos
Comments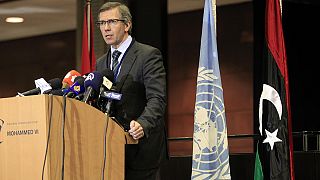 With Libya on the brink of all-out war, rival factions are again trying
to find common ground in UN-backed negotiations.
Libya's internationally-recognised government has had to operate from the east since the 'Libya Dawn' armed alliance took over the capital Tripoli and set up its own self-declared government last year.
Each power base is backed by heavily-armed warring rebels, who formerly fought together to oust Colonel Gaddafi in 2011 but later fell out in a battle for control of oil wealth.
Previous talks have made little progress and fighting has only worsened.
But confident of progress this time round, Bernardino Leon, the UN envoy mediating at the indirect talks in Morocco, said: "I have had the chance to meet the parties and to see that there is goodwill.
"In the coming days we will discuss two urgent issues: the formation of a national unity government and security measures."
Air strikes between rival forces intensified in the run-up to the talks.
Western governments fear the chaos is allowing Islamist militants to gain ground in a threat to mainland Europe across the Mediterranean.
Libya's North African neighbours are also concerned about spillover and the growing threat of militants claiming allegiance to the Islamic State extremist group in Iraq and Syria.