Vicious cycle - Film highlights Brussels' bizarre bike lanes
Comments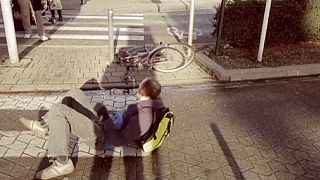 A new video providing a crash course to cycling through Brussels has racked up more than 100,000 views online.
Two cycling enthusiasts turned stunt men to make the humorous clip to highlight the pitfalls of the city's infrastructure.
In 'Brussels Bike Jungle' rubbish bags litter bike lanes, lines run into trees and temporary signs stand along the routes specially dedicated to cyclists.
Despite the dangers of cycling in the notoriously congested Belgian capital, more and more people are choosing two-wheels over four, but it seems the local planning authorities are not keeping up with the changes.
"I think bike lanes are drawn this way because they are not drawn by cyclists," explained Bastien de Zutter, co-creator of video 'Brussels Bike Jungle'. "They're just drawn by civil servants who get a mission to just draw a line and so they draw a line, and if this line goes straight into a tree, maybe they didn't even see the tree. They just carry out orders," he said.
The pair started a crowd-funded campaign last year which raised over 7,000 euros towards Velodossier – an interactive website where cyclists can borrow a GoPro camera to document cycling black spots around the city. These are then uploaded to the website. People are also taking to Twitter to note the problems facing cyclists in Brussels.
@velodossier: black car drives cyclist off the road junction de theux-germoir at 8:21 #BrusselsBikeJungle

— karin ds (@karin_ds) February 24, 2015
Rue Belliard, cyclistes en danger sous le regard de la @zpz_polbru#Velodossier#bruxelles#brusselshttp://t.co/ZkeU8oo9nQ#mobilité

— Gregory Vandendaelen (@gregvdd) February 24, 2015
The filmmakers hope their campaign will put pressure on the authorities to re-think bike networks, and make Brussels on a par with other cycle-friendly cities like Amsterdam and Copenhagen, and their bruises won't have been in vain.