Search for MH370 "can't go on forever" says Australia PM
Comments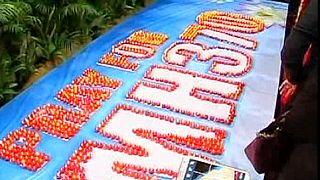 Almost one year after the disappearance of Malaysia Airlines flight MH370, Australian Prime Minister Tony Abbott has hinted that search efforts will be scaled back.
Australia has been leading the international search team, which is centred on 60,000 square kilometres of the Indian Ocean off the country's west coast.
Abbott moved a parliamentary motion on Thursday (March 5) to extend sympathy to the friends and families of the 239 people on board.
"Madam Speaker, for the world, the loss of Malaysia Airlines flight MH370 is one of the great mysteries of our time. For the families and the loved ones of those on that flight, it is a harrowing nightmare. I can't promise that the search will go on at this intensity forever, but we will continue our very best efforts to resolve this mystery and provide some answers."
The passenger plane vanished en route from Kuala Lumpur to Beiing on March 8, 2014. No sign has since been found of the plane or its passengers.
Last weekend, Australia, Malaysia and Indonesia announced a trial programme to test a new aircraft tracking system that will track planes every 15 minutes. Current systems only track aircraft every 30 to 45 minutes.
Malaysia's department of Civil Aviation is scheduled to release an interim report on MH370 this week.