LaGuardia runway in 'good condition' before Delta Airlines crash-land
Comments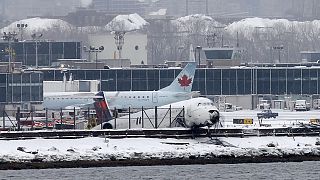 The Delta Airlines plane came close to toppling into the icy waters of New York's Flushing Bay.
Pilots on other planes reported good braking action
Flight 1086 from Atlanta skidded off the runway at LaGuardia airport in snowy conditions on Thursday morning, and hit a fence before coming to rest.
Officials said all 127 passengers and five crew members were evacuated safely from the plane – a McDonnell Douglas MD-88.
My day so far. #crashlandpic.twitter.com/dpNnGP5oQk

— Steve (@steveblaze98) 5 Mars 2015
Some passengers described the terrifying experience to the New York Daily News, saying there had been a sudden jolt and that the plane approached the water very quickly.
The airport's operator praised the pilot's actions, adding that others had experienced no problems.
"Before the incident at approximately 11.05, two planes landed and reported "good braking action" on the runways. This particular runway had been ploughed shortly before the incident and the pilots on other planes reported good braking action," said Pat Foye, Executive Director of the Port Authority of New York and New Jersey.
The AFP news agency quoted an official as saying there had been two dozen light injuries, but that only three people were taken to hospital.
The airport was closed temporarily and was expected to reopen around 7pm local time.
The winter weather has brought snow and freezing rain across a wide part of the US.