Woodpecker and weasel vs the internet
Comments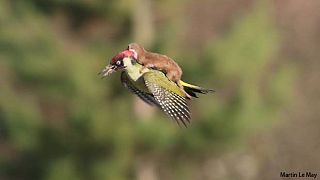 When Martin Le May took this incredible photo of a weasel apparently riding a woodpecker, the internet took it as a challenge.
ABSOLUTLEYINCREDIBLE photo by Martin Le-May. Green Woodpecker and Weasel. Apparently the Woodpecker escaped. pic.twitter.com/PUt1b2Mbhs

— Jason Ward (@Jayward7) March 2, 2015
Was there any way to create a more incredible picture?
Across the world photoshoppers and giffers went to work, here are five of the crazy results.
Watch out, #Putin-on-a-weasel-on-a-woodpecker – there's a Stormtrooper behind you! (via msteeman</a>) <a href="https://twitter.com/hashtag/WeaselPecker?src=hash">#WeaselPecker</a> <a href="http://t.co/dU5WSM9wpt">pic.twitter.com/dU5WSM9wpt</a></p>&mdash; The Moscow Times (MoscowTimes) March 3, 2015
What do you see? Weasel and woodpecker or white and gold? pic.twitter.com/aHZrWnH24D

— The Poke (@ThePoke) March 3, 2015
Wheeeeeee! http://t.co/3grkzGdLCxpic.twitter.com/VMVdTG0ssy

— AJ Jefferies (@moonjam) March 3, 2015
Fallt nicht auf die Fälschung rein die hier gerade kursiert! Hier das original! #WeaselPeckerpic.twitter.com/mOQnYTSV37

— 's Teechen (@Tee_Lichtenrade) March 3, 2015
March 3, 2015
No animals were harmed in the making of these images as Le May reported that the Woodpecker, photographed in Hornchurch Country Park in Essex, managed to land and shake of the predator on its back before both creatures made their escapes.