World class coma recovery centre threatened by Italy's healthcare cuts
Comments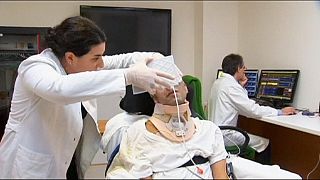 As Italy reins in spending on healthcare, a world-class coma recovery centre in Crotone is threatened by the cuts.
Over the last two decades Sant Anna Institute has helped more than one thousand people emerge from comas.
Eight years ago Maria's son Vincenzo survived a horrific motorbike accident. He fell into a coma.
"Day by day they are shown affection. Every hug and caress means a lot," explains Maria. "I've been at my son's side for seven and a half years and he has shown good signs of recovery. He doesn't talk, but when he sees me, his eyes follow me, he hugs me, he eats, he strokes my hair. These signs from him delight me."
Meanwhile Giovannina has been drifting in and out of consciousness since a bus crashed into the car she was driving.
After one year at the clinic she moved back home where doctors can check in on her over Skype as part of the remote care project.
Her condition is called "unresponsive wakeful syndrome."
Her family like when she seems to smile and laugh.
Even though the clinic's recovery rates are higher than average, they face the same cuts as any other hospital in the region.
Currently looking after 148 patients, the staff at the coma centre are proud of their achievements.
They follow their patients' baby steps, monitoring and encouraging them daily, hoping that their work will be recognised and they will receive the funding they need to move their work forward rather than taking a step back.