Thousands in Moscow attend funeral of Boris Nemtsov
Comments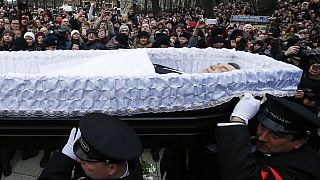 Thousands of people, many carrying red carnations, queued on Tuesday to pay their respects to Boris Nemtsov, the Kremlin critic who was murdered on Friday (February 27).
Nemtsov rose through the political ranks during the 1990s, eventually becoming deputy prime minister under Boris Yeltsin's rule.
In a gesture of conciliation from the Kremlin, Deputy Prime Minister Arkady Dvorkovich joined mourners filing into the hall where his open casket was on display.
Nemtsov's coffin was placed in the centre of a hall at a human rights centre named after Soviet dissident Andrei Sakharov. The casket lid was partially open to reveal his head. Photographs of the 55-year-old hung on the walls, and sombre music played.
Nemtsov's mother, dressed in black, stood stooped over the coffin. His ex-wife, Yekaterina Odintsova, with a black headscarf pulled over her blonde hair, stood nearby. Nemtsov is to be buried later on Tuesday at a cemetery on the outskirts of Moscow.
Chants of Russia will be free as Nemtsov's hearse drives out pic.twitter.com/rCYkcZF0QH

— tom balmforth (@BalmforthTom) March 3, 2015