Iraqi forces pursue battle to retake Tikrit from ISIL militants
Comments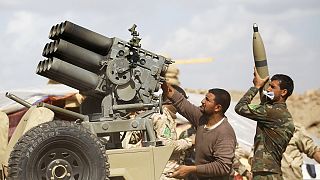 Iraqi soldiers and Shi'ite militiamen are pursuing efforts to retake Tikrit, the hometown of fallen dictator Saddam Hussein, now a stronghold of ISIL Islamist militants.
Although backed by Iraqi military airstrikes, the advance has been slowed by roadside bombs and snipers deployed by the jihadists.
But those on the government side remain confident of victory.
"With the resolution of the heroic fighters, God willing, we will liberate Tikrit and its suburbs as quickly as possible," said Shi'ite militia fighter Hani Salih.
"And when we liberate Tikrit, we will head on to liberate Mosul."
The pace of progress now will indeed affect plans to recapture Mosul further north, ISIL's biggest prize in Iraq. It is thought an assault to retake that city could begin as early as next month.
An Iranian military commander is said to be partially coordinating the current offensive, involving some 30,000 men, hailed as the biggest such assault since ISIL seized huge swathes of Iraq last summer.
The presence of Iranian military commander Qassem Soleimani on the frontline highlights neighbouring Iran's influence over the Shi'ite fighters who have been key to containing the militants in Iraq.
In contrast, the US-led air coalition which has been attacking ISIL across Iraq and Syria has not yet played a role in Tikrit, the Pentagon said on Monday, perhaps in part because of the high-level Iranian presence.