Iran rejects Obama nuclear freeze demand as 'unacceptable'
Comments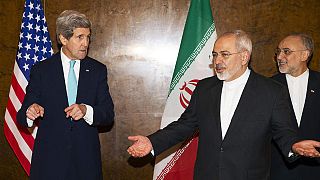 US President Barack Obama's demand for Iran to freeze its sensitive nuclear activities for at least 10 years is "unacceptable" according to the Islamic Republic's foreign minister.
But Mohammad Javad Zarif insists talks in Switzerland aimed at securing a nuclear deal ahead of an end of March deadline will continue.
"There is a seriousness that we need to move forward," he told reporters in Montreux.
"As we have said all along, we need the necessary political will to understand that the only way to move forward is through negotiations."
Talks with US Secretary of State John Kerry resumed in the Swiss resort town on Monday and could continue until Wednesday afternoon.
The aim of the negotiations is to persuade Iran to restrain its nuclear programme in exchange for relief from sanctions that have crippled its economy.
The pace at which those sanctions should be dismantled has been a key sticking point.
Washington and some allies suspect Iran has used its nuclear work as a cover to develop atomic weapons capability. Tehran denies this, insisting its programme is for peaceful purposes.