Woman missing at sea after freak waves at Game of Thrones set location
Comments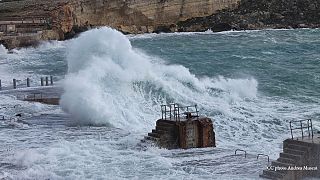 A Chinese woman is still missing after being dragged by waves into the sea off a Maltese island on Wednesday.
The unusually high waves were caused by fierce winds as an intense low pressure weather system lashed the Maltese Islands for some 36 hours from Tuesday afternoon until late Wednesday evening.
At its strongest, the wind climbed to 66.9 km/h (Force 8) on Tuesday, according to the Għarb Weather Station but gusts in more exposed areas reached speeds in the upper 80 km/h (Force 10) range.
The gale whipped up waves of around 5 to 6.5 metres high. Some freak waves were up to 10 metres in height.
Two people, a Chinese woman and a Hungarian man, were dragged into sea by freak waves in two separate cases.
The Hungarian man was rescued and hospitalised but the Chinese woman remains unaccounted for.
A woman who was accompanying her was taken to hospital suffering from shock.
The area is popular with tourists for its Azure Window, a limestone rock formation on the island of Gozo. Its scenic qualities have drawn camera crews from the world of television and cinema, for series and films such as Clash of the Titans, The Count of Monte Cristo and Game of Thrones.