Labeled as 'Art/Craft' a stolen Picasso worth millions is found in New York airport
Comments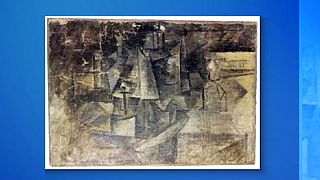 A Picasso painting has been found in Newark airport nearly a decade after it was stolen.
The cubist composition entitled 'La Coiffeuse' or 'The Hairdresser' was sent from Belgium with the note 'Art and Craft, Merry Christmas' with declared value of 30 euros when it was intercepted by US customs.
At the time of theft in 2001, it was valued at more than 2 million euros. The artwork dating back to 1911 disappeared from a storeroom at the Pompidou Centre in Paris. There are no reports of arrests in connection with the theft.
Picasso, a prolific painter who believed his artworks would keep him alive, comes out on top of the world's most stolen artists by a long shot with more than 1,000 paintings either lost or robbed.
The Art Loss Register set out the top ten most stolen artists in 2012.
1) Pablo Picasso – 1,147
2) Nick Lawrence – 557
3) Marc Chagall – 516
4) Karel Appel – 505
5) Salvador Dali – 505
6) Joan Miro – 478
7) David Levine – 343
7) Andy Warhol – 343
9) Rembrandt – 337
10) Peter Reinicke – 336