Russian court upholds Navalny prison sentence
Comments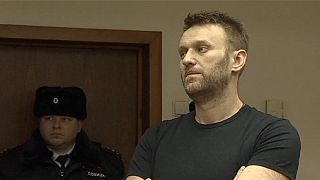 A court in Moscow has rejected an appeal against a 15-day jail term for prominent opposition leader Alexei Navalny.
The activist was handed the sentence for breaching a law that restricts demonstrations after being caught distributing flyers to a 'Spring March' rally he has organised.
Due to take place on Sunday, March 1, he will now no longer be able to attend.
"I call on everyone to come to the 'Spring March' and participate in the struggle for the future of our country," he said.
The anti-Kremlin protest appears to still be scheduled to take place.
On February 17 a separate court upheld a three-and-a-half year suspended prison term for Navalny. He, along with his brother Oleg, is accused of stealing some 430,000 euros from two firms.