French bomb ISIL, MPs meet Assad, young Europeans join extremists, Charlie lives on
Comments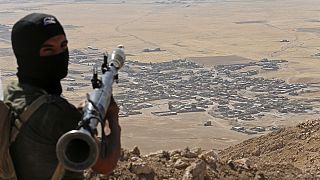 The Iraqi army gained ground in Anbar province while ISIL dug in to hold onto its strategic conquest Mosul. The western-led coalition against ISIL raided positions in Iraq and Syria. Italian Rai2.
Paris condemned a visit by four French MPs to the Syrian capital, saying 'we don't talk to the dictator who instigated civil war'. France 2.
The families of three British girls who disappeared fear they may have gone to Syria to join ISIL. Their inner circle saw no warning signs, and they are far from the only ones. Portuguese RTP.
It's been seven weeks since the Islamist terror attack on French satirical magazine Charlie Hebdo. The latest issue is entitled 'Here we go again'. Spanish TVE.