Greek former finance minister on trial for breach of trust
Comments
By
Euronews
with
Associated Press, Reuters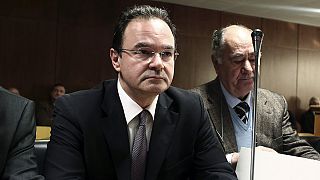 The trial of a Greek former finance minister has started in Athens.
Giorgos Papakonstantinou is accused of tampering with a list of around 2000 Greeks with money stashed overseas, who are suspected of possible tax evasion.
Papakonstantinou was finance minister in 2010 when the so-called "Lagarde List" was handed over to Greece by France.
Tax evasion has been widely blamed for triggering the Greece's debt crisis.
Papakonstantinou, who denies the charges, was expelled from the ruling PASOK party at the time, after prosecutors found the names of three of his relatives had been deleted from the list.
The existence of the list became publicly known in 2012 after it was published by a magazine.
The 'Lagarde" label is a reference to IMF chief Christine Lagarde.
A senior Greek tax advisor claims the government is owed 76 billion euros in unpaid taxes and fines.
Inaction on the issue while citizens suffered under austerity led to public anger in Greece.