Hungarian town Veszprém shake-ups politics for the Prime Minister in by-election
Comments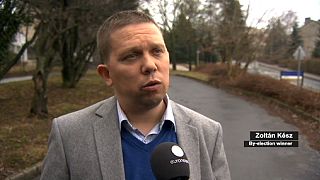 Hungary's Prime Minister Victor Orban has been forced to do some soul searching after his party lost its super majority following a by-election defeat.
The two-thirds majority allowed him to pass controversial laws and change the constitution outright, which many saw as removing controls vital to democracy.
The winning candidate Zoltán Kész said they've shown the yellow card to the government.
"People have had enough of the corruption, which has reached Veszprém. They said to the government do not steal. I would have thought this is a policy basic. They've sent a message to Orbán's regime, to stop thieving."
Orban's popularity has waned of late with a planned tax on internet use and allegations of corruption.
In the town of Veszprém the significance of the win was not lost.
"I think everybody felt a few months ago that this election would be important for the whole country," said one resident.
With the next election in 2018, the by-election result is being seen as a taster of what is to come as euronews correspondent Attila Magyar explains:
"For the left wing the result is being viewed as an opportunity. The opposition parties hope this is the beginning of a process of change. Meanwhile Fidesz politicians are following the event with concern. PM Viktor Orbán wrote on his Facebook-page they cannot rest on their laurels."