Kurdish forces repel ISIL militants in Iraq
Comments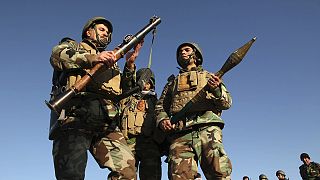 Kurdish Peshmerga fighters have fought off an attack by ISIL militants in the Iraqi town of Guwair on Sunday.
The town which lies 25km southwest of Arbil was recaptured by the Peshmerga militia last August.
Video footage provided by the Kurdish fighters showed the destruction after the battle, with the bodies of ISIL fighters among the rubble.
It comes as the US is helping Iraq to organise a major offensive to recapture Mosul from the Islamist insurgents in April or May.
The propaganda war has taken another turn with a new video released by ISIL which appeared to show Kurdish Peshmerga fighters being paraded in cages in the Iraqi city of Kirkuk. Though it's unclear when the images were recorded, the message is aimed to strike fear into the Pesghmerga who continue to make gains against the jihadist group.