Hundreds evacuated from homes as huge sinkhole appears in Naples
Comments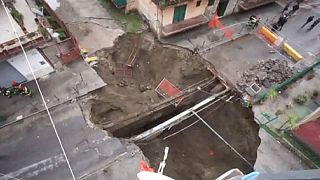 A ten-metre wide sinkhole has appeared in a street in suburban Naples after heavy rains and a burst underground water pipe caused the ground to give way.
Italian authorities ordered the evacuation of 380 local residents as firefighters worked to secure the area.
Officials say earlier subsidence had already created a small hole in the road.