Thousands attend anti-Maidan march in Moscow
Comments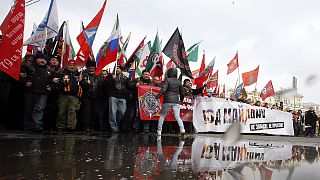 Thousands turned out for a rally in Moscow to condemn the popular uprising in Ukraine's Maidan Square, which ousted pro-Russian president Viktor Yanukovych one year ago.
Chanting the slogan "We won't forget! We won't forgive!" police say around 35,000 people attended the rally which was heavily promoted by state media.
"(I'm here) to support Russia indeed. Finally maybe in the close future the war could come here. Of course America supports all this, NATO as well, it's clear. I am ready to go to war but what war will it be?" asked one of the demonstrators.
Banners carrying anti-EU, anti-NATO and anti-American slogans were also on display.
This happy Anti-Maidan protester loves America so much that he took its flag for walkies! RT @NewcasterTV: pic.twitter.com/hO2UofdI4V

— Kevin Rothrock (@KevinRothrock) February 21, 2015
Twitter users pointed to another banner which mocked learning disabilities.
Down syndrome reference another win for the anti-Maidan march in Moscow today: "We're not Maidantards!" @JohnMannIIpic.twitter.com/Bv9f2okD7S

— Alec Luhn (@ASLuhn) February 21, 2015
"If we didn't have Putin it would be Maidan here already. And when I saw how he manages all of this I'm very proud. You see I bought a jumper with Putin on, I bought immediately! My friends did not believe it, they said: "Hey, but you voted for another guy!" I said: No, Putin is our man today, Putin is our president!"
Despite the fervour of some protesters, Russian internet forums spoke of payments being handed over for attendance as well as some educational institutes forcing students and employees to turn up. Journalists noted the number of buses near Red Square.
Anti-Maidan was not a Moscow march. Counted 106 busses from Kaluga, Belgorod, Lipetsk, Tula, Oryol &many other cities pic.twitter.com/WZtaZkpbIn

— Simon Kruse (@crusoes) February 21, 2015
The previous night saw a pro-Maidan protest, where at least five people were detained and then later freed.
It came as Kyiv held a series of memorials to those who died in the protests in February 2014.
Since the uprising, Russia annexed Crimea. The conflict in the east of Ukraine has claimed more than 5,600 lives and led to heightened tensions between Moscow and the West.